Welcome to Hanks Gun Leather
Most of our concealed carry holsters are made with Wickett & Craig leather. Single or double stitched with heavy nylon. These holsters are wet molded and some are hand boned. My goal is to provide a quality holster the average Joe can afford. If you are ever disappointed or unsatisfied with one of our products, please return it for a full refund. All of our holsters are hand crafted in the Blue Ridge mountains of southwest Virginia. We take pride in what we do and we thank you for your business.
Each holster is hand crafted when you place your order. Please wait 2-6 weeks for your order. Please contact us for rush orders.

Sam Hanks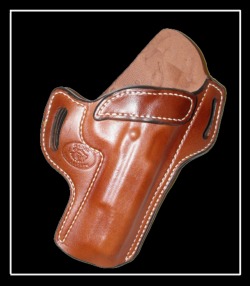 ---
Customer Comments

"I received my holster a few days ago, and I must say, I was impressed with the materials and craftsmanship. It fits my S&W 442 J frame perfectly and one of the most comfortable holsters I have ever worn. I would highly recommend your holsters to anyone who wants a top rate holster for concealment. I have been in Law Enforcement for 25 years (now retired) and this holster is excellent for concealment use for back up revolver or small frame auto. I will buy again from Sam Hanks. "

S.C



"I purchased a pocket holster for the NAA .22Mag with a 1 5/8 in barrel. This is one of the best made concealment holsters on the market. I will purchase from again."

Kevin Webb


"Received the P238 IWB Leather holster and was very impressed. Have been wearing it for a little over a week now. Beautiful craftsmanship, excellent quality, very comfortable, excellent value!" Edgar Shen


"Best holsters for the money on the market." Jeral Owner JFB Sales Co.